my highlights
• a cute bowl, a spoon & a practical pocket bib
• decorated with Elphee, Raffi and Wally in a mix of colours
• food grade and BPA free silicone
• shatterproof and anti-slip
• easy-grip features
• packed in a decorated gift box
The Peekaboo first meal set is designed to trigger the curiosity of little eaters. Elphee, Raffi and Wally peek out from the dinnerware - making mealtime an extra fun time of the day. A perfectly sized dinner set for learning to self-feed.

The cute bowl, spoon and practical pocket bib are made of food grade silicone. It makes the Peekaboo dinnerware shatterproof as well as adding anti-slip/easy-grip features and making the Peekaboo bowl suitable for use in microwave.

Little ones will enjoy having the animals join them for mealtime - let Elphee's pocket catch any food that miss and have Raffi encourage them to reach the exciting milestone of eating on their own. The cute gift set is in mix of grey, green and mustard.

I'm made of:
100% food grade silicone. Stainless steel: 18/8.
I'm this big:
Bowl: Ø 11,5 cm. Spoon: 14.5 cm
Bowl: 275 ml.
How to care for me:
Bowl/bib: Dishwasher safe to 100° C. Microwave safe. Temperature safe: -40° C to 230° C. Spoon: Dishwasher safe up to 70°C. Do not use in microwave.
All Done by Deer products are tested to comply with strict European standards and are therefore perfectly safe for kids to use.

I've passed the test:
This product is tested and complies with the European standard for children-s tableware EN 14372. It is also tested and complies with the EU regulations regarding food contact 1935/2004 and the German LFGB §30 and 31.


Important info for you:
Complies with EN 14350 and EN 14372. Please read the instructions inside before use. Recommended age: from 0 months.

silicone tableware
practical, durable & safe
microwave, oven & freezer safe
natural anti-slip & easy-grip
durable & unbreakable – perfect for kids!
long lasting & recyclable
free of BPA, phtalates and other harmful substances
natural anti-slip and easy-grip
Our silicone kids tableware is soft, durable and practical – and with playful designs it is both fun and safe for kids to use during mealtime.
We take advantage of the natural and practical silicone features in our designs. Silicone has natural anti-slip, which stops the tableware from moving across the table and makes a silicone placemat a perfect mealtime accessory. A clever suction base makes sure our Stick & Stay plates and bowls stay put on most smooth surfaces, preventing little ones from tipping or throwing them.
The easy-grip quality makes
it easier for little ones to hold on to cups and makes our cutlery sets perfect tools when learning to self-feed.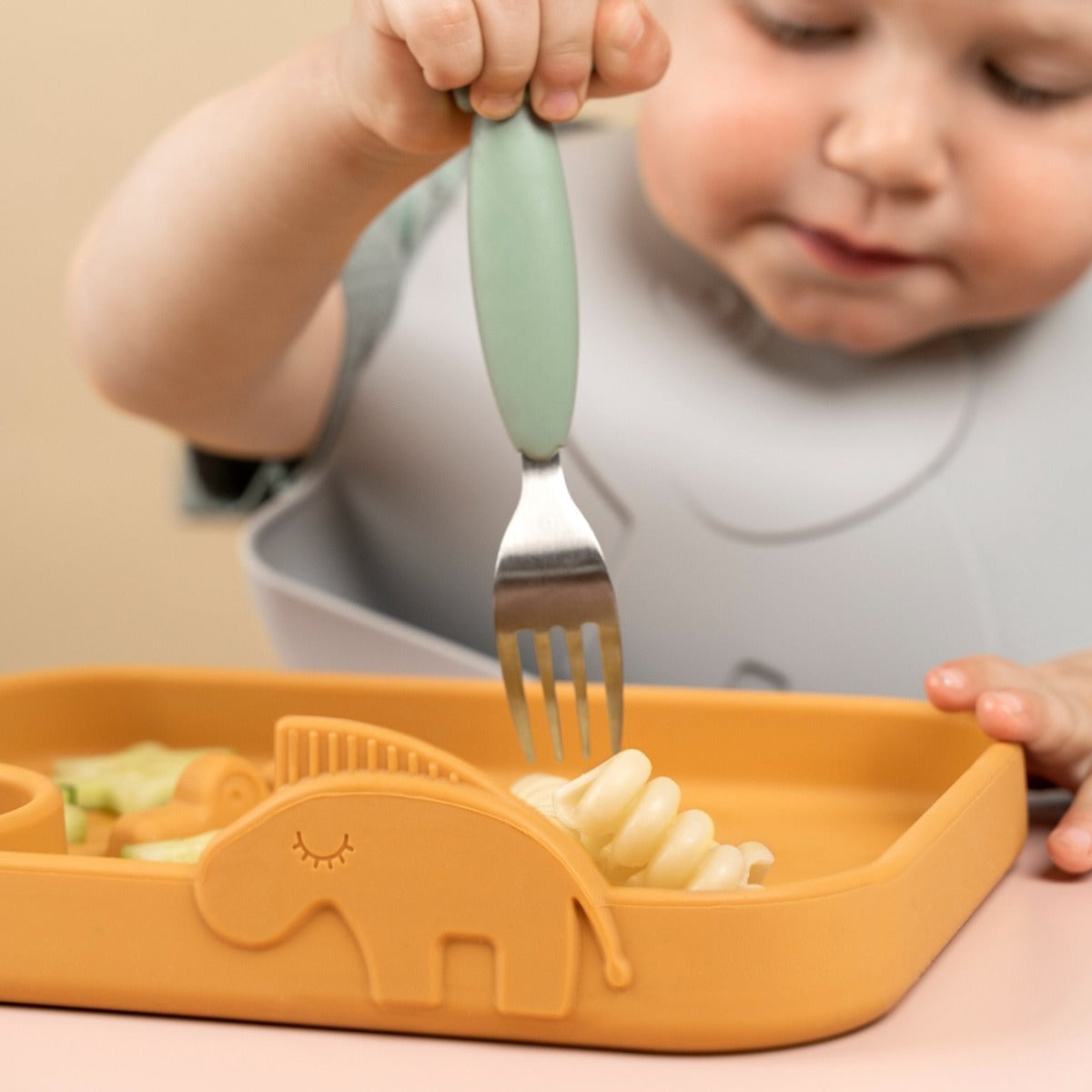 resistant to high & low temperatures
Silicone is easy to clean and resistant to high and low temperatures, which makes our silicone tableware suitable for use in the microwave oven, oven, freezer and dishwasher.

All Done by Deer silicone tableware is produced from 100% virgin food grade silicone – free of BPA, phthalates and other harmful substances – and complies with the European food standards as well as FDA, LFGB and ASTM.